No industry is immune to the Coronavirus pandemic. In the cannabinoid industry, consumers are buying and most businesses are responding to this demand with health and safety in mind. Declared "essential businesses" by many state and local governments, customer demand generation, customer retention, order ahead, delivery tech and order tracking are a few of the ancillary businesses seeing sales inquiries spike.
On the consumer product side, CBD and Hemp businesses who once focused on natural, convenience and conventional retail expansion are shifting marketing dollars to direct to consumer online sales channels.
The winners will prove value through the Coronavirus pandemic and thrive to the other side. Those who realize they are "wants" instead of "needs" may not. Our advice to CEOs and founders in this time of turmoil is to act like generals in time of war.
Be prepared.
Ask direct questions and listen.
Don't feel the need to immediately respond, but communicate aggressive timelines for response.
Form new strategies for survival and victory.
Present these strategies in an efficient way.
Take feedback.
Make decisions and survive by being scrappy and frugal.
Regarding CanopyBoulder's Accelerator Cohort & Events
On Saturday, March 14th, we decided that the safest course of action for our founders, mentors and staff was to go virtual. Since then, we have hosted all staff meetings, weekly stand ups, 1on1 meetings, pitch practices, mentor sessions and investor sessions virtually, via zoom. We are disappointed, but fortunate that we can power forward from the safety and security of our homes. We support everyone's decision around "place" in these uncertain times. The results have been positive.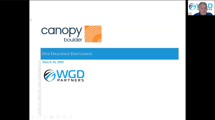 The purpose of a business accelerator is to help teams "do more faster". We've hosted cohort calls with over 10 of the top cannabinoid industry VCs, including AFI Capital Partners, Welcan Capital, Halley Venture Partners, Panther Capital, Arcadian, Tuatara, and Arcview Collective.
Invaluable insights have been shared, and new paths forged as a result of these conversations, and we hope to add these types of calls to our CanopyBoulder Investor Hub - to be launched on April 7th. Accredited Investors are encouraged to register below.
This is how we will launch the CanopyBoulder Winter 2020 Cohort into the industry after the program - surrounded by investors (online) and strategic content about the new cannabis industry.
We invite all cannabis angels, VCs and family offices to join us.