It's been a decade since the great recession rocked the global economy. And while things can sometimes seem a little rocky still, research is showing that the US economy is doing quite well. The World Economic Forum (WEF) recently ranked the United States second on the global competitiveness index. The main reason? Innovation and business sophistication.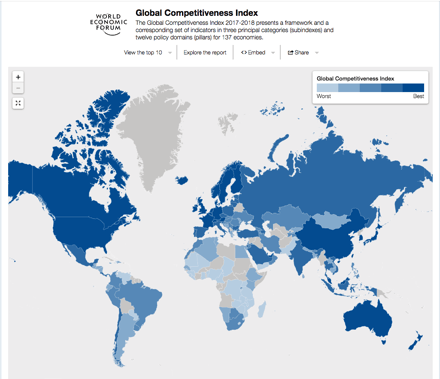 Anyone who works in the world of entrepreneurship will likely not be surprised by this ranking. New technologies and business are popping up all the time, fueled by people who want to control their own destiny in the wake of such economic uncertainty. Local and national leaders have begun to see entrepreneurship as a source of economic growth. But not just any entrepreneurship.
The rise of high-growth companies, also known as "gazelles" is important because of its serious impact on the economy. The Kaufman Foundation found that up to half of all new jobs created are done so by "gazelle" companies. These companies are categorized by their high growth rates (around 20% annually), rather than their size.
So how does a company become a gazelle and not just another small-business? The largest contributor is access to collaboration. This is why we see a lot of these companies coming out of dense, diverse and connected places like New York and Silicon Valley, where access to industry is concentrated. Gazelle companies are basically born in innovation ecosystems.
You're thinking accelerators and incubators now, aren't you? You're so smart.
Accelerators and incubators, along with co-working spaces, are the ideal place for a gazelle company to begin (check out the difference between them). All of these options give young companies a chance to collaborate with like-minded individuals. It allows them to trade ideas, skills and experience, speeding up the research process. It also exposes these companies to the right network of people - those who can (and want to) invest in, buy from or partner with innovative organizations.
While all three of these options should be considered based on your goals, the obvious choice for a true wannabe gazelle is an accelerator. And the reason is in the name. An accelerator helps companies rapidly grow (or accelerate) their business. They're traditionally fixed-term and cohort based for seed and growth stage companies and offer a very focused curriculum where startups receive mentorship, education, and networking resources in return for a portion of equity. This level of support is exactly the collaboration that makes a gazelle.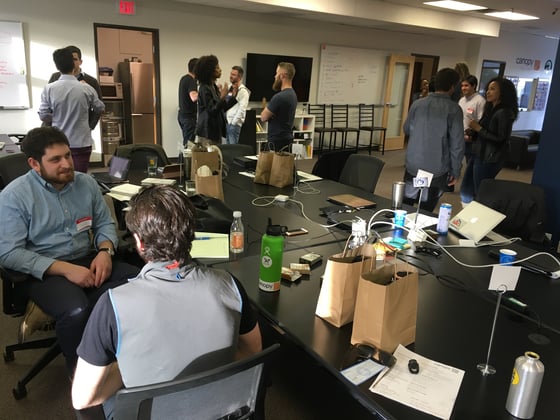 Accelerators are beneficial in any industry for any type of company. Starting a company is hard to do. Period. And you should cultivate as much support as you can. But for wannabe gazelles in nascent industries, like cannabis, they're a no-brainer.
Cannabis is a highly-regulated, brand-new industry thats projected to reach $25 billion by 2021. Its ripe for innovation and entrepreneurship but doesn't have decades of history to build upon, making it a tricky landscape to navigate. It is also a close-knit industry, where who you know can make or break you. Trying to be innovative in an industry that changes everyday can leave any founder feeling like they're doing more chasing than building. So, choosing an organization that can answer questions before you have them and get you connected to the right people from the jump can be the difference between success and… not success.
Just like any other industry, cannabis too has its accelerators. CanopyBoulder is an accelerator focused on ancillary cannabis companies and is based in the center of it all - Boulder, Colorado. Since 2015, we've launched 79 companies, made over 90 investments and watched as our teams have raised $35 million. Access to industry experts and knowledge is the difference.
"We're committed to building the businesses that the industry needs to grow rapidly, sustainably and profitably", says Patrick Rea, Managing Director of the accelerator. "Being in Colorado gives us access to an amazing network of mentors who help our teams to do just that by connecting them to the right resources at the earliest stages of their growth".
Cannabis is an industry ready for gazelle companies. Like any industry, it needs an infrastructure. Everything is needed - from payroll processing to agtech to media to data - making it an obvious choice for a risk-taking entrepreneur. But it's moving fast. Now is the time!
CanopyBoulder applications are currently open
. Apply by April 26 for priority screening.