BOULDER, Colo., Oct. 5, 2017 /PRNewswire/ -- Canopy™, a venture fund and business accelerator for ancillary products and services companies in the legal cannabis industry, is pleased to announce open registration for its 2nd FREE JumpStart Conference for Entrepreneurs & Startups, as well as Demo Days in 4 cities to mark the graduation of its Fall 2017 CanopyBoulder cohort.
"When investing in cannabis startups, it is important to think about goals and success in the long-term rather than the short-term," said Micah Tapman, co-founder and Managing Director of Canopy's growth fund. "Canopy's accelerator program helps us to find and develop promising new companies, while allowing Canopy's growth fund to foster their future success as the industry continues to mature."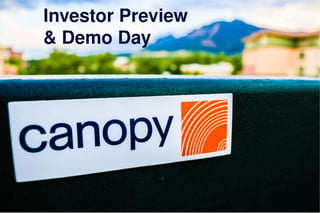 Canopy's nine companies will present their ancillary products and services to an audience of investors, industry VIPs, and select media in San Francisco on October 12th, Boulder on October 18th, Denver on October 19th, and Las Vegas on November 13th.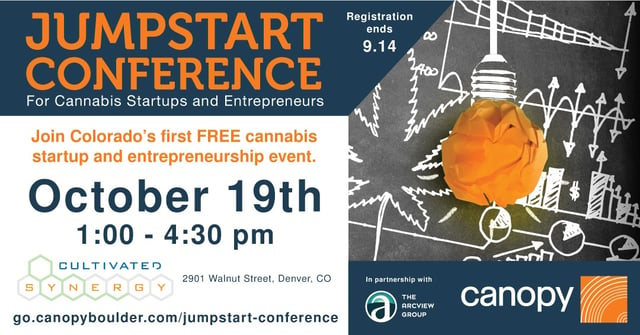 In addition, Canopy will produce its 2nd FREE Canopy JumpStart Conference for Entrepreneurs & Startups on October 19th at Cultivated Synergy, a cannabis industry coworking and event space in Denver, Colorado. Further details around all the events are available at www.canopy.vc.

"Our fall cohort of computer vision, IoT, online education, quality management, industrial services, and software companies are focused on solving the pressing business problems of the legal cannabis industry," said Patrick Rea, co-founder and Managing Director of Canopy. "There is no better time to launch an innovative company in the cannabis industry."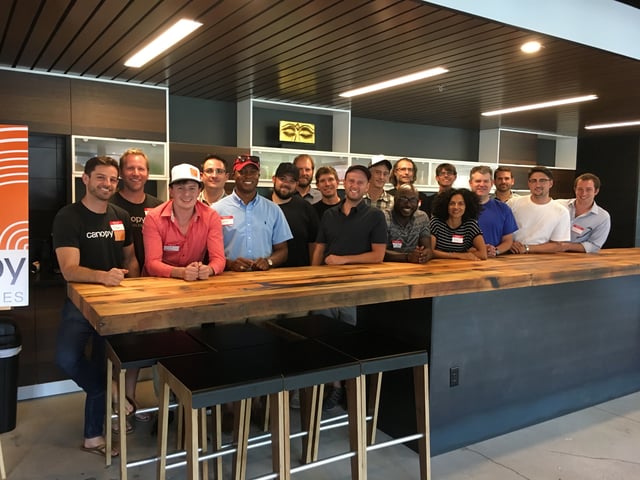 Each company accepted to Canopy's 16-week business accelerator program receives $30,000 in seed funding and a chance to earn an additional $50,000 in during in the program. The Canopy investment model prioritizes connecting its portfolio companies with experienced mentors, industry pros, Canopy alumni, and a broader cannabis investor network, including investor members of Canopy partner, The Arcview Group.

The nine companies graduating from the fall cohort include:
Canopy is now accepting submissions for its 16-week Spring 2018 accelerator program in Boulder, CO, which offers up to $80,000 in seed funding for ancillary cannabis startups, as well as mentor and investor connections. Interested applicants can view full details and apply here.

About Canopy
Canopy is a venture fund and business accelerator that invests in companies developing ancillary products and services for the legal cannabis industry. Companies are handpicked to receive up to $80,000 in capital and participate in an intensive 16-week accelerator program. Canopy advisors and mentors work closely with each company, helping define business models, refine unique selling propositions, and focus marketing and fundraising activities. For more information, please visit www.canopyboulder.com.

About The Arcview Group
Founded in 2010, The Arcview Group is responsible for a number of groundbreaking ventures in the cannabis industry. The Arcview Investor Network includes more than 600 accredited investors who have put more than $152 million behind over 162 companies. Arcview Market Research produces the State of Legal Marijuana Markets report, which is the most oft-cited market data report. In 2015, Arcview became a partner in Canopy, the first seed-stage mentor-driven business accelerator in the cannabis industry. Arcview is also co-founder of Cannasure Insurance Services, the leading provider of business insurance to the cannabis industry. For more information, please visit www.arcviewgroup.com.