The cannabis industry is currently one of the fastest growing industries in the United States. Growing at a rate of 30% annually, BDS Analytics estimates it to be worth $22B by 2020, just 6 short years after the first state fully legalized.
When we talk about cannabis industry growth, most people immediately think about the cultivation, testing, distribution and retail sale of the plant. And while these businesses are the core of the industry, real opportunities lie outside of those areas in the ancillary sectors. (After all, it was Levi Strauss & Co. that was the real winner in the gold rush).
This is not lost on emerging technology companies - even those that never intended to be "cannabis companies". In fact, one of the most exciting trends in the cannabis industry right now is the innovation we're seeing throughout the space, as new tech companies find cannabis to be the perfect incubator for their technologies.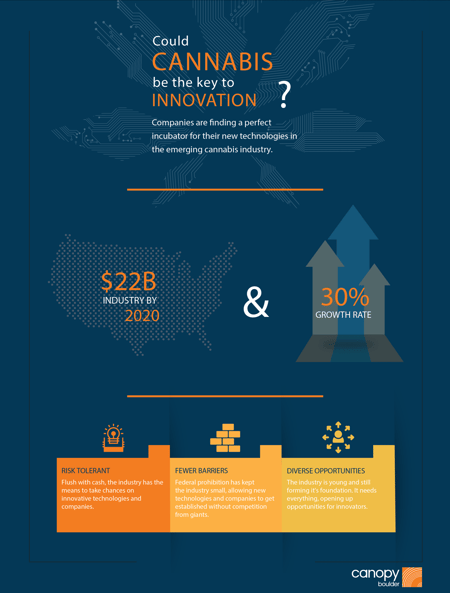 This is happening for a few simple, yet "no-brainer" reasons. First, banking hurdles mean the industry is flush with cash... so much so that some companies don't even know what to do with it. This makes riskier bets easier.
Perhaps one of the best examples of this is Bloom Automation, a company that uses robotics to trim cannabis buds post-harvest. Pretty cool, right?
Well, anyone who knows anything about robots knows how expensive they can be. Robotics require a great deal of time, effort and testing to truly work out quirks and make them a legitimate alternative to human labor. Traditional agriculture simply does not have the cash to invest in what could be a long (and expensive) road of learning, tweaking and refining robotics. In fact, traditional agriculture seems to be one of the only sectors which has not benefited from the technological advancements of the 21st century.
This is not the case in cannabis. Instead, cultivators in this emerging industry are taking a chance, partially because of the ability to do it (cash) and partially because they lack the necessary workforce, altering the cost-benefit equation that traditional agriculture faces. For companies like Bloom Automation, this is an opportunity to get their technology working in the real world, gathering information and the chance to refine as needed. Essentially, they're proving out a concept in this more risk-tolerant industry, making their technology more attractive down the road to risk-averse industries like traditional agriculture.
For other technologies and companies, the sheer size of the industry is enough to attract them to the space. At only a few years old, the industry has limited competition and is easier to navigate for new entrants. Further, federal prohibition has made the industry unattractive to large, established companies. This phenomenon means small businesses have a space to build without competing with giants from day one.
For a company like Stashlogix, this is key. The company has created a secure storage container for cannabis, though the applications are much larger. Think pharmaceuticals- for example. But getting a consumer product on the shelf in places like Walgreens can be tough due to competition. Instead, the company is making a name for themselves in cannabis, giving them the space needed to grow and refine before taking on industry giants and making the jump into more established spaces.
In addition, the fact that the legal cannabis industry is only a few years old means it still needs everything. And by everything, we mean everything... From payroll processing to point of sale technologies to security to marketing - almost nothing exists yet. This is a rare phenomenon in today's world- where something as simple as secure storage container would be literally non-existent in this application. The opportunities this presents are endless.
It is clear that the emerging cannabis industry offers a myriad of opportunities for all kinds of companies. But one of the most interesting and promising trends is using cannabis as an incubator for new technology. The availability of cash, small size and novelty of the industry opens up space for entrepreneurs to try new things, get their feet under them and become established with limited competition. It's likely that some of the greatest technologies of our generation are taking their baby steps today… in cannabis.