When cannabis was legalized in Colorado and Washington in the 2012 election, it was hard to imagine the industry that would develop in the six short years since. Where there once were vague signs for hard to find dispensaries that made you feel like you were still up to no good now stand state of the art, modern and sophisticated retail fronts. But when legalization finally came down, it was hard to imagine all of that. The year between the passing of amendment 64 and the first adult-use sales in January 2014 was a weird year. With so much anticipation and press coverage, legalization proponents were a little worried about how all the hype would roll out. Would people understand and respect the laws? Would tourists understand how to consume cannabis responsibly? Would this be a failed experiment?
Jeremy Bamford, founder and CEO of PotGuide, was one of those people. A medical card holder and proponent of legalization himself, he was excited about the passing of Amendment 64 in Colorado in 2012. And like many Coloradans, Bamford followed the media coverage during 2013; In doing so, the founder realized there was really no resource to help tourists and new users navigate the new laws and industry. So he set out to change that.
In 2013, he began building a resource exclusively for the Colorado market - helping tourists understand where to buy product, 420 friendly places to stay and activities to engage in. But he never imagined that what started as a simple, 5-page resource to Colorado's cannabis market would turn into a successful business only a few years later.
As time went by, and the industry ramped up, PotGuide gained more and more traction. By late 2014, the site was bringing in 200,000 users a month, making it increasingly difficult for Bamford to balance running the site alone with his full-time day job. So, at the end of 2014, he quit his job, focused on pursuing PotGuide full time.
Bamford knew he needed support if he was going to build a company by himself. Not only did he need to freshen up on his business skills, but he was going to need mentorship and a co-founder if PotGuide was going to be able to keep up with demand. Bamford turned to Samantha Chin, a contractor and digital marketing guru who had already been helping with marketing efforts for months. The addition was key as the company entered CanopyBoulder's inaugural accelerator class in the spring of 2015.
The program was a turning point for Bamford, who had previously thought of PotGuide as a resourceful website rather than a business.
"From day one, I knew it was a good choice. The program was what we needed to really focus on growing the company", explains Bamford. "It was so useful to be surrounded by people who knew what they were doing and who we could talk to at each turning point. Even today, we're still tight with a lot of the people we built relationships with while in the program."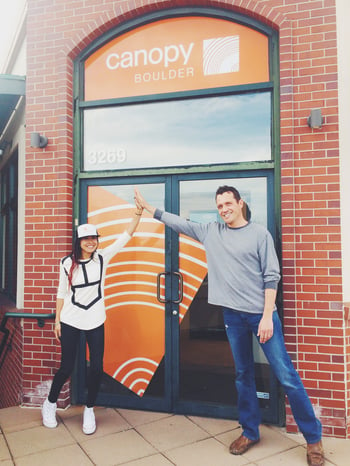 PotGuide Founders, Samantha Chin and Jeremy Bamford during CanopyBoulder accelerator Spring 2015
And while they got the support they needed, starting up in a new industry certainly has its ups and downs. Federal prohibition meant that PotGuide, which expanded to additional states in 2015, faced challenges with banking, insurance and payment processing. Raising funds and managing cash flow was another hurdle the team had to overcome as lines of credit and bank loans are simply unattainable for businesses in the new industry. But Bamford credits his passion for the venture, ability to bootstrap and incredible team as the driving force in the company's success.
In five short years, the company is now in 19 states and is busier than ever - bringing in 1.3M visitors a month (up 40% in just the last year). The business model has changed too. In addition to providing a resource on where to buy, where to stay and what to do, the company now offers a broad spectrum of educational content and guides for all things cannabis (seriously, ALL things cannabis).
The future for this young company looks bright as they press forward. Their plans in the next few years include continuing their expansion into new markets, with the aim of offering resources for every state with some type of cannabis reform laws in the books- so keep an eye out.
Bamford explains that while the company is light years away from where they started, the mission is the same. "At the end of the day, we're just focused on creating a useful site that combines a great user experience with quality content".
I'd say they've succeeded in that. But you should decide for yourself…