Team: Jeff LaPenna (Norcross, GA), John Capogna (Little Neck, NY), Bill Stark (Cleveland, OH)
Company:
The Peak Beyond
,
a developer of interactive smart tables for cannabis retail spaces.
How did you develop the concept for The Peak Beyond?
John created a first prototype of our project while in graduate school at NYU. This first version was focused on introducing play to dining experiences. A few years later we were hired by Pepsi Co. to make an updated version for a "Future of Food Technology" event at the International Art and Design Fair in Milan, Italy. In this iteration we imagined the restaurant of the future. After Milan, we searched for ways of bringing the product to market and landed in cannabis with Canopy.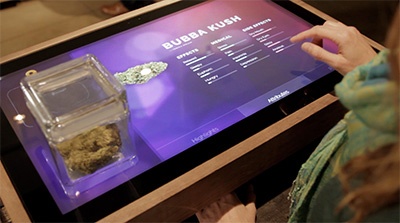 What problem does your product/service solve in the cannabis industry?
Our product engages customers, makes dispensaries more accessible to new (and possibly uneducated and overwhelmed) consumers, creates transparency in the supply chain for the consumer, gives dispensaries a way to stay cutting-edge and competitive, brings cannabis consumers together for a social experience and increases dispensary sales.
Why did you decide to apply to Canopy?
A few of our close friends are good friends with Troy Dayton and tipped us off to ArcView. Canopy seemed like a great way to get our product closer to market. We knew our product would be extremely valuable to the wine industry, but thought cannabis would have a much easier entry point.
What's the best part of working in the cannabis industry?
The best thing about the cannabis industry is the potential for creating relevant connections between people.
You work a lot. What do you do when you're not drilling down on your startup?
Jeff teaches Nonviolent Communication (NVC) at San Quentin State Prison and runs his own NVC practice. Bill owns and operates one of San Francisco's newest and most successful Capoeira schools, is a private contractor, and is starting a new business endeavor in the yoga health and wellness space. John is an interactive media artist creating new types of alternate reality video games based on travel and social decision-making.
Interested in launching your cannabis business with Canopy? Click on the Apply button below for more information on how Canopy can help launch your startup.