Starting up in cannabis? Raising capital?
Want some support?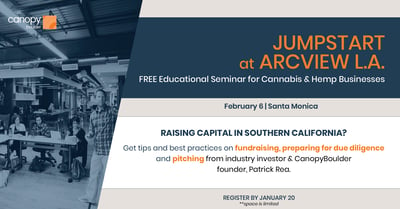 Join CanopyBoulder & The Arcview Group for a seminar on how to successfully start a cannabis company and raise capital, during Arcview LA Investor Summit.
Industry expert, investors and CanopyBoulder founder, Patrick Rea, will walk a select group of entrepreneurs through best practices and proven techniques for getting your business to stand out in a noisy space.
Topics that will be touched on include pitching to investors best practices, market overview, preparing for due diligence and venture finance.
RSVP by February 2!
All cannabis and/or hemp entrepreneurs are encouraged to apply.