INTERESTED IN INVESTING IN CANNABIS?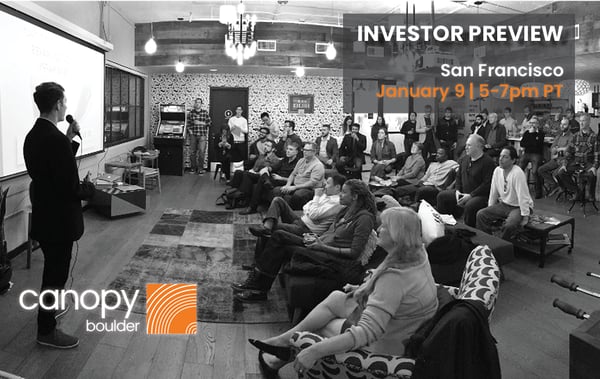 The CanopyBoulder Accelerator brings you a look into the industry's future. Join the Boulder, CO-based startup accelerator for an exclusive, accredited-investor only preview of the program's Fall 2018 companies. Ten new cannabis investment opportunities will present representing high-growth ancillary verticals including banking and regulatory platforms, web tools, agriculture technology, and consumer accessories and assistance.
Not in San Francisco? Check out our other investor preview options.
Not an investor? Check out our public demo day in Boulder, CO
------
ABOUT CANOPYBOULDER
The CanopyBoulder Accelerator, founded in Colorado in 2014, is the leading early stage business accelerator in the marijuana industry focused on tech and product innovations. Startups that join the accelerator do not touch the plant, but instead focus on software, data, media, and hardware that serve the consumers and businesses in the legal cannabis industry.